INTERVENTIONAL CARDIOLOGY
A LIVE DEMONSTRATION COURSE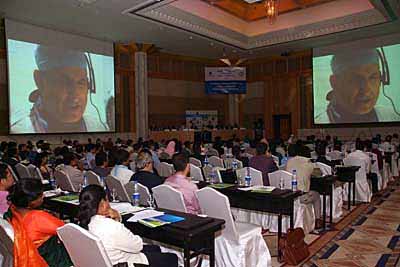 These live demonstration courses feature a wide variety of complex coronary, peripheral, and non-cardiac interventions.
Dr. Fayaz Shawl has been doing live demonstration courses ever since his teacher, Dr. Andreas Gruentzig" passed away in 1985. Dr. Gruentzig was the founding father of these types of live demonstration courses.
Click here to view a video of the course.
(to be added)
---

Comments from the Annual Live Demonstration Course at Washington Adventist Hospital


"... This was a course of extraordinarily high caliber and [Dr. Shawl's] technical prowess is quite impressive."
Spencer B. King III, MD
Director, Andreas Gruentzig Cardiovascular
Center of Emory University
President-elect, American College of Cardiology.
"...Not infrequently one attends these courses and they are indistinguishable. This was not the case with yours."
Frank Litwack, MD
Cedars Sinai Medical Center

"...Watching You do carotid stenting is a revelation.... It will have an impact not unlike that of coronary angioplasty."
Richard K. Myler, MD
San Francisco Heart Institute